Intentional Preparation . . . A Conscious Journey
to Wholeness
A one day and evening workshop
(For Singles and Couples)
If already in relationship, bring your partnership into a higher spiritual level.
If you are wanting to attract your true spiritual partner, this workshop is for you!
Do You Want:

Higher Love ?
Oneness with Spirit and Matter?
Your Soul Mate ?
Spiritual Partnership in All Relationships ?
Learn The Tools of Preparation
What is Spiritual Partnership?
Healing and completing past relationships
Making the commitment to Higher-Self
Balancing masculine - feminine energies
Getting clear about what we want
Bringing Spirit into the body
Detachment and faith
Join us for a full day of preparation and a very special evening celebration and inner marriage ritual.
In joyous symbology, we will enact our sacred commitment to our Selves, adorning our bodies with ceremonial dress (if you choose) and our imaginations with our heart's desire.
A Full Day Experience
Preparing for and manifesting Spiritual Partnership.
Joyous Inner-Marriage Ritual
We will support and honor eachothers' committment to our Higher Selves in preparation for our sacred partnership. Please bring with you a sacred wedding garment (if you choose), a 3 to 4 minute music tape or CD track for your personal ritual, a special treasure to adorn the altar (it will be returned to you after the ceremony), a journal or notebook, and a camera or video (optional). Each person will have the opportunity to express their inner marriage in the circle with their own music . . . a very beautiful ceremony.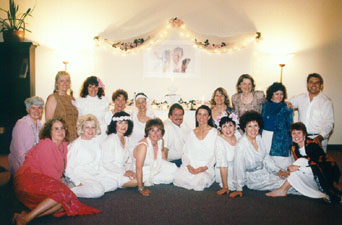 This experience provides the foundation of helpful steps for those who wish to partake of the Divine Marriage of Self and manifest that inner union and balance of Masculine / Feminine energies in Spiritual Relationship.
The purpose of Sacred Partnership is to allow the commitment of this union of Masculine and Feminine energies to create the matrix from which the One can express.
Date: to be announced
Investment:
Where:
Time: 10am - 9pm (with breaks for lunch & dinner)
(beautidul evening Inner Marriage Ritual)
Directions:
Testimonials below: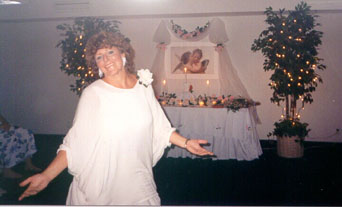 "A rich and full experience skillfully guided by Trish. Her love and communion with the dolphins added a deeper energetic than one normally finds in workshops. Highly recommended !!!" --Carolyn Talmadge, Teacher, College of Marin
"Great skills for a left-brained engineer to learn! You were a terrific Leader." -- Al Keeley, Astrophysicist
"The most profound, effective, powerful, & Loving experience of my life, moving me into Full relationship with my Higher power." -- Rev. Pomaika'i Coulon, Kona, HI
"Wonderful! . . . beautiful! . . . my heart is overflowing." --Suzanne Baccaro, Palo Alto, CA
"Very moving! Respectful, mindful, connected, loving . . . Trish guided us through very powerful meditations with absolute confidence in the process." -- Sandra Dickinson, Berkeley, CA
"An incredible heart-opening experience! Thank you!" -- Susan Mitchell, Mountain View, CA
If you would like this experience in your area, please contact us.
---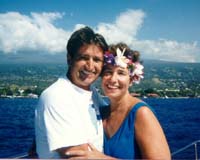 Facilitated by
Trish Regan & Doug Hackett
All of my life I yearned to be whole and complete and to travel the pathways of life with my spiritual partner by my side. I desired to be bonded in Love, a Love so powerful and deep it could take two souls and create a brilliant spirit of blended and unified Light. Knowing the truth of the saying, "love yourself first and you will draw to you the Beloved," I decided in 1989 to put some consciousness into my yearning. I committed myself to my Self with a sacred inner marriage ritual, and feeling whole and complete unto myself, I "manifested" my perfect spiritual partner --- my "dream man!" --- Doug Hackett, into my life.
We have been married since 1992 and live a magical adventure, facilitating dolphin and whale swim retreats with Dolphin\Spirit of Hawaii, (established in 1994). This kind of sacred bond transcends fear and in its spiritual vision provides freedom in oneness. Please join me in this powerful and joyous step-by-step process and make the commitment to Self and to healing Love!
Trish is author of the book series Essential Joy: Finding It, Keeping It, Sharing It. She also produces the web TV series, Soul Stories and Dolphin & Whale Stories on www.themanifest-station.com..