Whales Hawaii: Into the Heart of God:
| | |
| --- | --- |
| March 3-9 , 2013 | |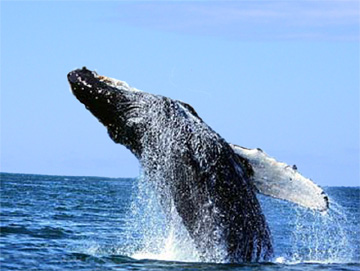 Aloha!
Come join us for a week of immersion in the magnificent whale energy here in Hawaii as the humpback whales migrate here to give birth. They grace us with their presence, coming close to our boat, sometimes swimming under our boat so close that we catch our breaths in the magic of their enormous field of energy. If you cannot join us in Tonga to swim with the humpbacks, come to Hawaii to whale watch, float in their profound song ... AND, we may swim with hundreds of dolphins too!
We hope you can make your paradise dream come true!

Love and Light,
Trish and Doug
Click here: video of our amazing experience in this retreat

The whales will help you to:

* Manage gracefully the tremendous changes occurring on the planet at this auspicious time


* Delve deeply into your soul where your core of being is calling for you to live from your center point


* Allow the powerful, interdimensional song of the whales align you with your universal purpose and vibration

* Resonate in the Heart of God ... finding the deepest, profound peace and silence within

We will float in eternity while listening to their powerful whale song, allowing the vibration to awaken within us our own divine matrix. Being with the whales is so different from being with the dolphins. Though we cannot legally swim with the humpbacks here in the US, we will be surrounded by their unified field of presence as we float in their vibrations that expand through the ocean waters and resonate with our souls.

In the evenings, we will go into deep communication and meditation with the whales to receive messages and transmissions that will help us to become translucent and transparent ... experiencing the Whale Light Activation (with the energy of over a million whales,) channeled messages for our group from the whales, and timely information about our present and future expansion as the earth transforms into the Golden Age.

On two days, as we motor out to find the whales, we may have a chance to swim with hundreds of dolphins expanding our joy and radiance! Two other days we will travel by boat to the whale sactuary for amazing whale watching.

For over seventeen years we have been conducting dolphin swim retreats here in Hawaii. Since 2009, we have been guided to focus on the whales while they are here so that those of you who cannot join us in Tonga will be able to receive the deep, divine energy of these masters of the sea.

On two mornings, we will swim with hundreds of dolphins in joy before immersing ourselves in the powerful whale energy. The dolphins' profound high vibrational frequencies can help us to resonate with our souls and open our hearts. They help us to synchronize the right and left hemispheres of our brains to bring us into balance. Many experience healing on many levels while with the dolphins.

We will visit the sacred Place of Refuge for sunset, which now has an energetic Crystaline City floating above it, to enhance our dreams and visions. Through ritual on this sacred ground, together we will envision the world in its potential brilliant Light of expansion, grace, and compassion and our own lives in the full expression of our radiance.

On two mornings we will motor farther out to be with the humpback whales in their birthing grounds. We cannot swim with these giants of the sea, but often they will breach, whale slap and make amazing sounds with their pectoral fins many times right near our boat! We will hear their profound song which resonates with the core of our souls.
When: March 3-9, 2013

Where: Our beautiful home/center,
Captain Cook, Kona, Hawaii

Personal Investment: $1,880 (double occupancy)
Non-Refundable Deposit: $400 per person
(balance due one month before retreat)
Includes: 7 days/6 nights accommodations in our beautiful home/center (double occupancy ... if you desire a single room, the single supplement is $250), one delicious home-cooked gourmet dinner, all breakfasts, Authentic Hawaiian Luau with Polynesian entertainment, two boat whale watches plus two boat dolphin swims, four lunches on the boat, all transportation to boats and sacred sites for sunset, snorkel practice, all retreat meetings, airport transfers first and last day of retreat. Optional tour of the most active volcano in the world, Kilauea. (overflow guests will stay in the apartment next door just for sleeping, or a hotel around the corner.)
Cancellations: Your deposit of $400 is non-refundable (unless in the case of cancellation if we can fill your space - you will then receive your deposit back minus $75 credit card fees and handling) Emergency cancellation within one month of retreat is refunded only if your space is filled.
Note: Since the dolphins are wild and free, there are no guarantees of dolphin swims.
Click here for Most Asked Questions