Hawaiian Dolphin Retreats
"Dolphin Radiance - Living from Centerpoint"
Kona, Hawaii
Join us
in the crystal blue Hawaiian waters...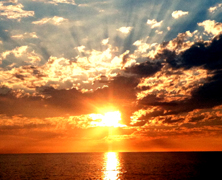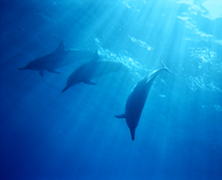 ...as we glide along with hundreds of wild Spinner Dolphins, immersing ourselves in the magic of Hawaii while moving into higher frequencies accelerating our ascension process with the powerful advanced energies of the cetaceans.
The dolphins show us in the image below how their energy of radiant love moves through our consciousness as we glide along with them in their ocean home. When the retreat ends, this energy flows with us as we return home ... changed forever.
We offer for you...
| | |
| --- | --- |
| | Four mornings swimming with hundreds of dolphins ... a most illuminating and life changing experience! |
| | Personal channeled information from Dolphins, Whales, Ascended Masters, Angels, Archangels and Beings of Light |
| | Multidimensional gifts from the Whales to accelerate our frequencies, allowing access to the highest aspects of our souls |
"Trish and Doug...you were the most thoughtful facilitators. My expectations for this week long seminar were fantastically exceeded. You both go so far "above and beyond" in your efforts to provide an UNPARALLELED EXPERIENCE. Thank you, thank you, thank you." Thomas M.
"This was the most beautiful experience I have ever had in my life. I feel I am alive again, more evolved. My spiritual experience was so healing. It was so inspirational, enlightening - I know I experienced my soul. I'm in the moment in a bubble of loving peace." Joyce. H.
"A shower of gratitude to you. You are very loving and caring and full of joy. Very warm and open, being that for every one of us. Angels, dolphins, whales - just glorious. My concern that I might be exposed to yet another teaching, set of beliefs, etc. was for naught, and I am very happy about that. I also enjoy experiences and rituals so much more than words and doctrines. I appriciated very much that you did not have a fixed agenda about teaching, lecturing, theoretical stuff. You are going with what is coming up, with what the group energy asks for, needs at that moment. Very intuitive and that is the way to do it!" Alessandra W.
"The workshop was absulutely transformationl for me. It assisted me in integrating various aspects of myself, as though placing the center piece in a puzzle that connects all the rest. Bless you for facilitating this experience." Helen R.
Click here to view a 30 min. video about the Retreats that includes dolphin footage
"Dolphin Radiance - Living from Centerpoint" Retreats
Register Here

In our beautiful home/retreat, Kona, Hawaii
We are living in exciting and challenging times. We feel the enormous changes emerging on our planet, changes that are being catalyzed by the collective consciousness' expansion from the Old Matrix into the Light of All Possibility and nurtured by Beings of Light who guide us and support us. We are ascending in frequrency as the earth herself is raising her vibration. The dolphins and whales are here to teach us as humanity how we are evolving and to assist us to open to the depths of our beings in order to navigate these times with trust, faith and grace. Instead of facing these changes with fear and confusion, we will learn how to resonate with the energy of joy, which is truly our essence. When we hold joy we cannot hold fear in the same space within. We will practice living from the deep resonant core of being - our centerpoint.
Experience: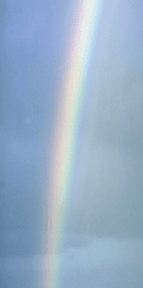 A week of expansion:
During this week, we come together with a small group to celebrate together our spiritual expansion. Beginning with snorkel practice on the very first day, we immerse ourselves in the wondrous warm blue ocean waters allowing the cares and challenges of life to melt away. With morning dolphin swims, afternoon resting and relaxation time and late afternoon gatherings, we are surrounded by the tropical ambiance of beautiful Hawaii. After dinner and the spectacular Kona sunsets, in the evenings, we will gather and utilize the energy of the dolphins, whales and angels to move into our highest frequencies and radiance.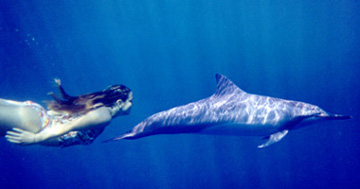 Dolphin boat swims ... (including whale watches in winter.)
This will be the adventure of your life! For four mornings, we will swim and play among hundreds of dolphins. We will be surrounded with their multi-dimensional healing energy, illuminated communications and joy. In winter we will communicate with the humpback whales as they come to our boat and into the bay to share their deep wisdom and transformative song. We may also have the opportunity to swim with the majestic pilot whales.
Conducted at our beautiful home/center or a beautiful home nearby

(Click for more photos) We will be living in a beautiful, quiet space 1200 feet above the ocean. Lodging is double occupancy. We will find you a roommate if necessary. We welcome you as family and provide a quiet and lovely space for our retreat participants.
Sunset at some oceanside sacred Heiaus (Hawaiian temples):
Two late afternoons we will travel to some reverred sacred sites, providing spectacular Kona sunsets. We will have time to allow ourselves to just be... to let go and contemplate the gentle waves of aquamarine iridesence and the natural beauty of this Hawaiian paradise. Our spirits are awakened and rejuvenated as we connect with the crystaline City of Light above one of these sacred heiaus.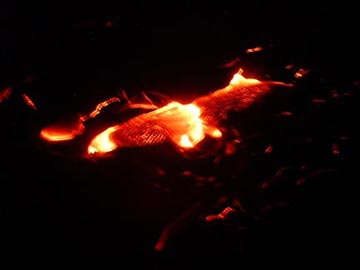 Optional Volcano Tour to Kilauea:

If you choose, you may experience the dramatic landscape of the newest earth on earth. We will venture to the most active volcano on the planet, home of Goddess Pele, with its primordial energy of cleansing, manifestation and flowing lava. Visiting the famous black sand beach, macadamia nut orchards and charming Hawaiian sites along the way, we will melt into the beauty of this sacred and powerful land where we may see the dramatic steam plume rising from the caldera where the goddess, Pele, resides.
(This is optional = $120.)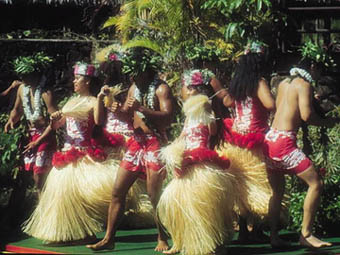 Authentic Hawaiian Luau w/ Polynesian Entertainment:

On our last night together we will be immersed in tropical fun and joy as we celebrate with a delicious authentic Hawaiian Luau. We will be graced with colorful and rythmic dancers who will entertain us with their autthentic dances and garments of Polynesia.
Where: Kona, Big Island, Hawaii
Abundance Appreciation : US$1,880
Included: Seven days/six nights, including lodging in our beautiful home (double occupancy) or other homes in the area and the apartment next door just for sleeping, four dolphin boat swims, two dinners including an authentic Hawaiian Luau, four lunches on boat, breakfasts, transportation to swims and sacred sites, snorkel practice, airport transfers and retreat meetings. US $400 non-refundable deposit. Balance due 33 days prior.
***We always follow the dolphin's intentions and honor their home. Ninety-five percent of the time, they will invite us in to swim with them, and due to their delightfully unpredictable behavior, we cannot guarantee dolphin swims.