August 12 - 18, 2015
(limited to only six special whale lovers!)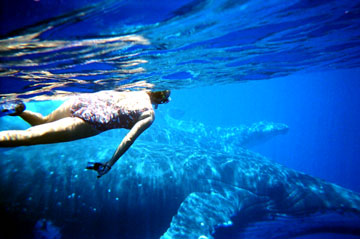 Aloha!
Come join us in the paradise of your dreams! Spend one week in paradise with us swimming with humpback whales in 2015. Six days and six nights with the most advanced beings on the planet!

We hope you can make your paradise dream come true!
Love and Light,
Trish and Doug
Please click here for photos:
Our home for six nights and six days is a premier beach resort in the Tonga islands (somewhat near Fiji and New Zealand).
It is your ultimate paradise isle dream come true! We will be living on a sandy beach yards from the ocean. We will be pampered by our hosts with delectable gourmet meals and wonderful service.
It is the most magical and uplifting experience to swim up close with whales all day (in Tonga it is legal to swim with the humpbacks) and gather together in the evenings to share our experiences and be in deep meditation with the whales, listening to their channeled messages for us about our spiritual expansion.
Love and Light,
Trish and Doug

Whales of Tonga Retreat: August 12-18, 2015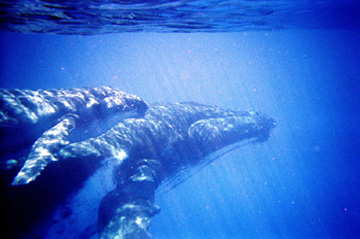 When: August 12-18, 2015
(flying to Tonga you will lose one day in travel from the US ... crossing the International Date Line)

Where: The Tongan Beach Resort, Vava'u, Kingdom of Tonga

Personal Investment: $3,160 per person (double occupancy)

Non-Refundable Deposit: $600 per person
First balance $525 due December 12, 2014
Second balance $1,129 due June 5, 2015
Third balance $906 due July 5, 2015
Travelers Insurance: We strongly suggest the purchase of travelers insurance (must be purchased within two weeks of purchasing your tickets to cover pre-existing conditions).
Cancellations: Your deposit of $600 is non-refundable. Other Retreat monies paid are non-refundable unless we can fill your space (then, you will receive these other monies back minus $75 credit card fees and handling). This is why we strongly suggest the purchase of travelers insurance.
Accommodations: Every two people will have their own private oceanside room yards from a pristine white sand beach. We will arrange roommates if needed. If you are a single participant, we will give you a roommate.
Includes: All breakfasts and dinners included (plus lunches for the four days on the boat) Our premier resort give you your choice at each meal (fresh seafood, chicken, meat and wonderful local veggies) ... vegetarian menus available, but not vegan; accommodations (six nights at the resort); four humpback whale swims (7 hours/day for four days); one evening local entertainment; ; all retreat gatherings.

Content of retreat: On the first day, we will have our orientation, getting to know each other and communing with the whales in meditation. On swim days, late afternoons after our whale encounters, you may bask in the beauty all around you and swim in the warm aquamarine ocean right outside your door. In the evenings on swim days, before a delectable meal, we will merge with the whale mind in meditation, receiving channeled messages and be immersed in the expanded, refined vibrations of their deep wisdom. We will share our experiences and revel in our special pod energy of unconditional love. The whales will guide the retreat's unfolding. We will be changed forever as we touch the very core of our Beings and our soul purposes. On the last evening we will have our closing gathering before leaving the island the next day.
***Experienced snorkelers only
***You will fly into the main island of Tonga, Tongatapu (Nukualofa) and then on to Vava'u.
***The air flights are not covered by the retreat fee. The least expensive airline that normally flies from Honolulu or Los Angeles to Tonga is Fiji Airways. We will give you suggestions of excellent travel agents who are experienced with travel to the South Pacific.
Maps of Vava'u and Surrounding Islands
"From the moment Doug and Trish mentioned swimming with whales in Tonga, I felt the certainty that this would be the adventure of a lifetime. Not only was I not disappointed, but it also proved to be an experience beyond imagination, beyond description, and altogether beyond comprehension. I still go back to that moment of eye-to-eye contact with the beautiful mother humpback whale when my consciousness seemed to expand into the infinite. I think it gave all of us a new frame of reference for the (Divine). And sharing the joy of the experience with our delightful, small human pod enhance each moment.
Then, on land, our hosts made us feel like we had found heaven on this six-acre white sand island of Mounu. The gourmet dinners were each memorable. Our cozy, two-person Fale welcomed us to dreamtime…at least until the stars of that vast southern sky beckoned us out to the beach again and back into the water for one last dip. Even after spending most of the day out on the boat, or in the water playing with a baby whale, or swimming offshore among the clouds of silvery sardines, we never tired of the magnificent, clean, clear Pacific Ocean. I would like to make this an annual excursion and I heartily recommend it to those who feel called to experience a new dimension of sheer joy." ......... Alletta Bell, Founder of World Healing Institute
---
"Words are hard to find to describe the impact of eye to eye encounter with humpback whales - creatures of such huge and mysterious consciousness. I bring this mystery back with me and know it is working in me in unknown ways. One thing I do know is that it is a reminder of the sacred in all life and an insistent call to speak and act in alignment with this sacredness.

Trish and Doug did an incredible job in making this rare experience possible. Not only did they work with challenges and countless details, but they are wonderfully attentive to what each of us needs to get the most out of the journey. I am very grateful!" ......... Catherine Regan, Ph.D.


---
"When one looks directly into the eye of a Whale your life will experience a transformation. This enormous, but oh so gentle being holds our truth. Within the wink of her eye we are asked to seek our deepest truth what and where ever it is.

I returned from the trip with renewed enthusiasm and creative energy. The first day on the computer I wrote a play and revised my storytelling program. I will unequivocally state that I personally received a very valuable message."
......... Anne Olund, MLA


---
"Our trip to Tonga with you to swim with the humpback whales was by far the best vacation my husband and I have ever taken. The combination of staying at Mounu Island Resort with its luxurious simplicity and spending hours on and in the ocean was profoundly relaxing and centering. Seminars with you and Doug are always joyous and expansive, add swimming eye to eye with the whales and the experience was transcendent--I hardly have words to describe it. We are eager to join you again next year." ......... Sarah and Larry Forsblad
---